2000
The Morella beacon, of unequivocal urban quality, acts as a reference point and luminous reference in a somehow subtle complicity with passers-by. The continuity of two cylindrical surfaces with different radii generates a precise, complex object with a deceiving appearance and a reversible visuality, depending on whether it receives sunlight or projects its own light beam after dusk.
The Morella beacon is part of the series that received its name due to being designed for use in the public space of the city of Morella.

The body is made from a single sheet of machined, welded steel with a thickness of 2 mm. The circular base is made of 8 mm thick sheet steel, while the cover is 3 mm thick. The surface finish of the set is cor-ten effect coated. Philips Pacific interior luminaire with two 18W LED tubes (not included) fixed vertically to an L-shaped profile of 30 mm.

The installations require drilling three holes 40 mm diameter in the paving is with the help of supplied template. Fill them with resin and place the base-luminaries set with the three anchorage zinc-plated steel bolts M-16, 140mm long. Make electric connexions to later assemble the body to the base plate with three steel screws M-6 supplied.
 
Características
Morella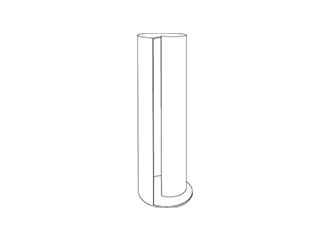 Ø28 x 90 cm / 28 kg
Materials
Zinc-plated steel coated in Corten effect
Cor-ten steel