1990
Mayo is a backless bench made from reinforced concrete and with a section formed by arches. The simplicity of this bench lies in its forceful, pure geometry. The perforated seat, like a checkerboard, permits the evacuation of rainwater and increases the ventilation effect, lowering the temperature in warm weather conditions. 
The architects Cruz and Ortiz created their first design called Abril, which was then followed by Mayo and Junio. The collection was recently extended to include Mayo circular as a singular element for the Granada Health Technology Campus. 

Mayo demonstrates its capacity to blend into the urban environment without imposing, and with the desire to remain due to its material condition. A design that is rigorous and simple in terms of its formulation, but universal in terms of its application. Mayo circular, with rounded geometry, marks the space individually and permits an ambiguous use. 
 
The backless bench is manufactured and edited in two sizes, Mayo 296 and Mayo 220. It is completed with Mayo circular, 45 cm hight and a diameter of 230 cm as a backless bench or also as a resting platform. Bench made from reinforced, etched, water-repellent concrete in the Escofet standard colour chart. Self-standing, with no need for anchors.
 
Características
Mayo 220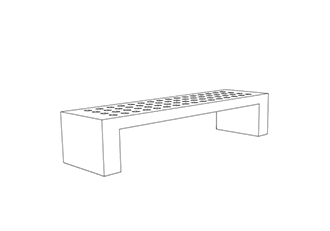 220 x 60 x 45 cm / 455 kg
Mayo 296
296 x 86 x 45 cm / 812 kg
Mayo Circular
Ø230 x 45 cm / 853 kg
Materials
Etched and waterproofed Concrete