1988
The Banco-U and Silla-U are characterised by their surprising cross section, which offsets the weight of the base with the weightlessness of the bench. Its fine, curved back, ergonomically designed to be embraced by the arms, forms a contrast with the thick base, which provides stability to the unit and allows the user to comfortably rest their feet or bags. The seat and bench are self-standing and can be placed directly on the grass or terrain without the need for building work.
This element forms part of the A-E-I-O-U "Vocabulary" collection, comprising the Banco-U and Silla-U, Llum-i, Gat-o and Test-e elements. The hint embedded in their compound names implicitly contains the idea of creating a new vocabulary of elements as the expression of the specific response of each one to the same issue: the confrontation between the neutral gravity of fluid concrete and the potential tension it adopts when adapting to different uses. 

Because of their straight cross section, the benches can be aligned to form long lines of benches, while the seats may be used as contradictory elements, either individually or in groups.
 
Concrete reinforced with stainless steel in an etched finish and in the Escofet standard chart colours. Easy to lift and handle with slings, both models are installed recessed and flush with the paving or grass, without requiring any special foundations. They may also simply rest on the paving.

 
Características
Silla-U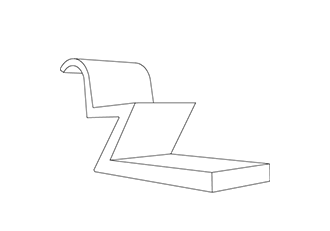 70 x 150 x 42 (85) cm / 408 kg
Banco-U
140 x 150 x 42 (85) cm / 815 kg
Materials
Etched and waterproofed Concrete