2003
The Sumo bench acquires the functionality of an open, non preconfigured system consisting of a linear or sinuous bench that takes on concave and convex shapes, snaking beneath the trees or communicating with the existing landscape elements. Its robust structure makes it possible to create benches of up to 6 metres in length with just two supports at their ends. 
The Sumo bench was given its name as a clear analogy to the enormous size of the athletes who practise this wrestling sport, the national sport of Japan. The proposal stresses the contrast between the robustness of the solid part of the seat and wooden back with the lightweight nature of the flimsy metal supports. 
 
Due to the simple nature of its design and the flexibility of the system, its length and angle can be adapted to the needs of any project. The standard module with a length of 3 metres and two concave and convex angle options responds to practically the same number of situations as the potential requirements that exist, without excluding its use as a conventional linear bench with a variable length of between 2 and 6 metres. The robustness of the wood, deliberately oversized, together with the great resistance of the metal supports ensure a long useful life.

Seat and back made from FSC-certified laminated pine wood. Galvanized sheet steel supports. Optional galvanised metallic plate armrest. Anchored to the paving with exposed, detached screws, fastened with resin. Optional supports with longer lengths and anchoring plates concealed beneath the paving.
 
Características
Sumo 300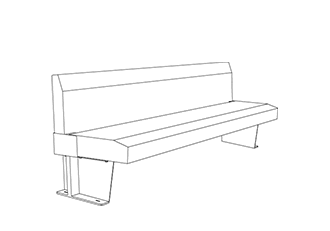 300 x 64 x 80 cm / 266 kg
Sumo 450
450 x 64 x 80 cm / 383 kg
Materials
FSC® Certified laminated Fir Wood, HLG protected and oil-treated
Galvanized steel
Colours:
Fir
Galvanized