2017
The Universe system was designed as a complement for Escofet's concrete backless bench collection. Its lightweight steel and wood structure, supported by its stone volumes, brings more comfortable uses to public space. The range includes the complementary bench and chair with armrests and a backless bench and backless seat. All of them rest on standard backless benches or on "in situ" masonry walls.       
From the need to contribute new uses for different situations, we have created a set of simple, friendly, comfortable and universal accessories, suitable for any element that requires an ergonomic seat.

The Universe system is designed for installation on walls built "in situ", and as a complement to most backless bench models from the Escofet catalogue, such as Sócrates, Longo, Box, Garonne and Godot, among others.

The structure of the machined steel plate supports, with a thickness of 6 mm, zinc-plated and with silver textured, painted finish. Optionally, painted in other RAL chart colours. Stainless steel also available. The seats are made from FSC® certified tropic wood boards with a crosssection of 40 x 35 mm, and they are supplied with or without a back and in two lengths: 600 mm and 1800 mm. Concealed anchoring to a wall or a bench with stainless steel screws and metal expansion plugs.
Características
Universe Acc. Asiento
60 x 43 x 4 (20) cm / 9 kg
Universe Acc. Silla
60 x 57 x 4 (62) cm / 20 kg
Universe Acc. Banca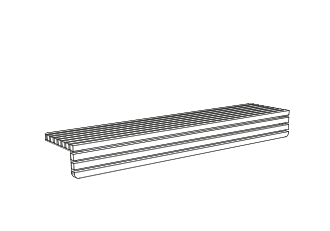 180 x 43 x 4 (20) cm / 23 kg
Universe Banco
180 x 57 x 4 (62) cm / 44 kg
Materials
FSC® Certified Tropical Wood and oil-treated
Zinc-plated steel Textured Silver coated
Stainless steel AISI 316L
Colours:
Tropical
Textured Silver
Stainless steel