2000
Slope is a vibromolded reinforced concrete element that allows nature to be reproduced in urban settings and urbanity to be dissolved into nature. Its shape insinuates the multiplicity of the designer's tools and arrangements which lead them to the parameters for a new cortex. Its undulating orographic surface projects the idea of comfort, rest and contemplation to passers-by. 
Slope has emerged from a detailed study of reptile tissue, the way the scales come together and the way structure is transformed in transition when movement is required. By learning from the systems that build up these natural tissues, we are able to synthesize an ambiguous yet attractive, versatile piece. Slope transfers this concern into the realm of street furniture.

Conceived as a single model, it is revealed as a landscape element designed for a possible solitary use, but offering its combinatorial capacity in its compositional background. 
 
A molded concrete piece reinforced with stainless steel available in the Escofet's standard range of colors. Gentle mild etch finish that with use approaches polishing. Self-stabilising and weighing 1,500 kg, it is installed by allowing it to rest on the paving, and requires no anchors.

One of the important features of today´s society is probably the search for a new relationship with nature; new patterns, new systems and also new forms, which make us perceive the action of progress in harmony with the surrounding natural context, allowing us to integrate it and be integrated into it.
Características
Slope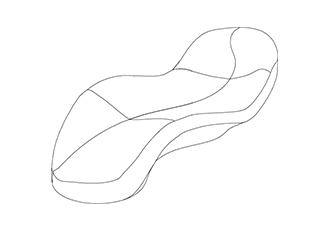 325 x 140 x 58 cm / 1500 kg
Materials
Etched and waterproofed Concrete