2008
A series formed by two combinable concrete bases: The Longo bench, Longo cube and five wooden seat models with metal frames, and with or without backs. The combination of all these elements permits the formation of lines of simple modular benches made from concrete combined with seats with a random orientation. The collection is completed with the Longo litter bin and the Longo ashtray, both of them modules with AISI 316 stainless steel accessories.
The word longo comes from the Latin word longus, which means long. The first Longo elements were installed in Vilablareix, Girona, as part of a project by the same author.

The collection includes a cube of 100x100x45 cm, a backless bench of 400x100x45 cm, five wooden seat models with or without backs. It's completed with two concrete modules measuring 60x100x45 cm, a litter bin and a ashtray, both with AISI 316 stainless steel accessories.

Non-reinforced dry-mix concrete, it is manufactured in all the chart colours with an etched and waterproofed or polished and waterproofed finish. Accessories for creating a bench with or without a back of 280 cm, using tropical wood planks with a cross section of 135x30 mm screwed to three supports made from steel coated with zinc primer and oven-baked silver paint with a granular texture, prepared for anchoring to the concrete bench.

The concrete modules have a simple geometry and rest on the ground with no need for anchors. The wooden accessories are supplied fastened to the concrete modules in the agreed position.
Características
Longo Acc. Asiento
70 x 44 x 33 cm / 17 kg
Longo Acc. Silla
70 x 62 x 74 cm / 34 kg
Longo Acc. Banca
280 x 44 x 33 cm / 43 kg
Longo Acc. Banco
280 x 62 x 74 cm / 88 kg
Longo Acc. Respaldo doble
282 x 22 x 46 cm / 60 kg
Longo Cubo
100 x 100 x 45 cm / 725 kg
Longo Banca
400 x 100 x 45 cm / 2670 kg
Longo Papelera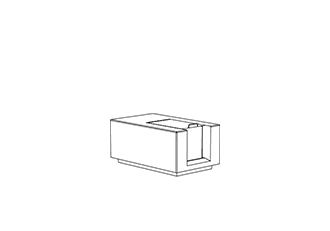 100 x 60 x 45 cm / 555 kg
Longo Cenicero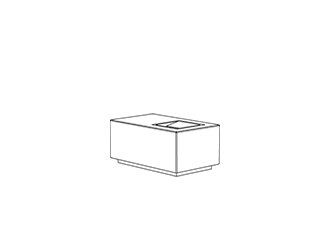 100 x 60 x 45 cm / 575 kg
Materials
Etched and waterproofed Concrete
Polished and waterproofed Concrete
FSC® Certified Tropical Wood with lasur finish
Zinc-plated steel Textured Silver coated
Stainless steel AISI 316L