2011
The Boulevard litter bin is an eminently urban element with a simplified production process, formalised as a cylinder supported by a thin tube with a rectangular cross section. It embraces the body with two generatrices, in a "U" shape, which, in turn, serves as a support structure to anchor it to the paving.  
Boulevard was created as the result of a formal simplification and optimisation of production costs in designing the Gruss litter bin, a previous and much appreciated design by the same author. 

Slotted support and body in zinc plated steel with a thickness of 2mm Textured Silver, Forge Black or Corten effect coated finish. The model is designed to be anchored to the paving with three metal expansion plugs and stainless steel screws.
Características
Boulevard
Ø44 x 76 cm / 21 kg / 60 L
Boulevard Lisa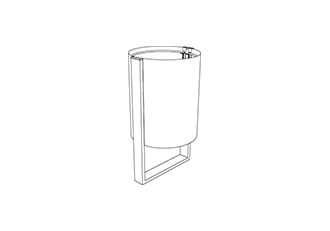 Ø44 x 76 cm / 22 kg / 60 L
Materials
Zinc-plated steel Textured Silver coated
Zinc-plated steel Forge Black coated
Zinc-plated steel coated in Corten effect
Colours:
Textured Silver
Forge Black
Corten effect