2019
The Alpine collection consists of a simple, versatile, combinable system formed by a bench and backless bench that makes it possible to form straight-line aggregations with two modules of lengths: 1,75 m and 2,40 m. The complementary nature of the concrete supports with the wooden seat and back allow it to be adapted to any scenario, thus enhancing personal interaction and diversity in use. 

The symbiosis between the solid, resistant, stone supports and the warmth of the timber evokes an indeterminate spot in the Alps, from whence its name is derived, transmitting comfort, peace and relaxation.
Alpine is designed as an intuitive, fast assembly system, facilitating its installation "in situ". The seat and back surfaces are supplied ready-assembled with machined plates at their ends for screwing to the concrete supports. Designed for the purpose of encouraging meetings, Alpine is 100% configurable in linear compositions and as isolated elements.The bench offers two modules of lengths: 1,75 m. of urban character and 2,40 m. of a landscape nature.

Supports made from reinforced, etched and water-repellent concrete in the Escofet standard chart colour. Optionally they are also made in recycled Eco-Grey® or Eco-Black® concrete. Seat and back formed by FSC®-certified solid pine or tropical wood with a cross-section of 135 x 50 mm. The structural elements, optional armrest and fastening elements are made from stainless steel.

It is supplied dismantled and duly protected, with assembly instructions. Each support has two ground anchoring points with stainless steel threaded sleeves recessed in the concrete. The timbers of the back and seat are fastened to the supports with tamper-proof screws.
Características
Alpine Banca 175
175 x 60 x 48 cm / 192 kg
Alpine Banca 240
240 x 60 x 48 cm / 218 kg
Alpine Banco 175
175 x 60 x 48 (86) cm / 222 kg
Alpine Banco 240
240 x 60 x 86 cm / 250 kg
Alpine Banca Doble 175
338 x 60 x 48 cm / 299 kg
Alpine Banca Doble 240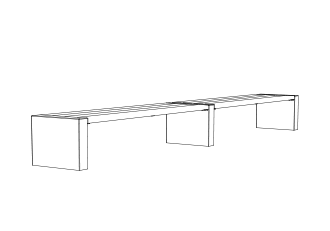 468 x 60 x 48 cm / 350 kg
Alpine Banco Doble 175
338 x 60 x 48 (86) cm / 349 kg
Alpine Banco Doble 240
468 x 60 x 86 cm / 405 kg
Alpine Banca Banco 175
338 x 60 x 48 (86) cm / 330 kg
Alpine Banca Banco 240
468 x 60 x 86 cm / 382 kg
Materials
Etched and waterproofed Concrete
FSC® Certified Tropical Wood and oil-treated
FSC® Certified Nordic Pine Wood, high-pressure protected
Stainless steel AISI 316L