2004
Naguisa is a series of four modular arc-shaped benches with a diameter of 7,50 or 11 metres and the capacity to transform spaces into a harmonious landscape through its mere presence. Its gentle curves evoke the current of a river that wishes to awaken the imagination of its users. 
The curved traces of foam left by the sea on the beach (Naguisa in Japanese) is an underlying source of inspiration. The first edition was originally made to be installed in the Island City Central Park of Fukuoka in Japan, based on the design of the architect Toyo Ito. 

It is based on a circular arc-shaped design with a length of 4 metres, whose curved, excavated surface creates different spaces that organically fulfil the function of a seat. The central, higher part of the bench, with its sinuous shape, is used as a back and armrest. The bottom part of the unit is excavated in a casual way that allows the different light reflections to give the sensation of a living being. The aggregation of its curved arcs permit the construction of closed circles with diameters of 7.50 and 11 metres. It can also be organised in a continuous zigzag arrangement that is enhanced by alternating the direction of the circular arcs. 

The top part of the back has a height of 63 centimetres, which is also perfect for a person who is standing to use it as a support. Moulded concrete reinforced with stainless steel and a double finish. Etched finish in the seat part and a shiny polished finish on the back, with a sinuous shape. The Naguisa bench is installed by simply allowing it to rest on the paving.
 
Características
Naguisa R375A
378 x 120 x 63 cm / 2450 kg
Naguisa R375B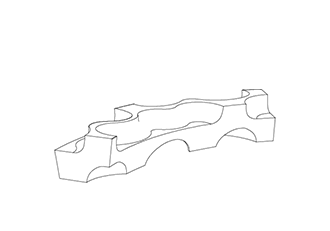 378 x 125 x 63 cm / 2250 kg
Naguisa R550A
423 x 120 x 63 cm / 2750 kg
Naguisa R550B
423 x 116 x 63 cm / 2600 kg
Materials
Etched and waterproofed Concrete