2018
Garonne is a set of three modular backless benches; Garonne Bordeaux, Garonne Toulouse and Garonne Aran, with rounded top corners, symbolising the effects of the river that has eroded its edges. In the Garonne Aran and Bordeaux models, the seat has two different heights for use as a "chaiselongue". The smaller one is adapted for children.
The Garonne Bordeaux backless bench was designed for the stations of the first Toulouse tramway line, now known as Ligne Garonne, as its recent extension makes it necessary for it to cross this river. Aran is the name of the valley where the river Garonne rises, Toulouse is the city in the middle of the river, and Bordeaux is the name of the city where it flows into the Atlantic.

The overall dimensions of the three models are 200 x 60 cm and 46 cm in height. Bordeaux model has a depressed area of 31 cm on the surface of the seat joined to the upper plane by an inclined plane; on the contrary Aran has an emergent profile. The 5 cm baseboard, which is set back, conceals the support surface, allowing its weightless mass to levitate above its shadow.

Moulded concrete with an etched finish and in the Escofet catalogue standard chart colour. Resting on the paving, and optionally anchored with two screws threaded through sleeves recessed in base.

 
Características
Garonne Bordeaux
200 x 60 x 45 (31) cm / 970 kg
Garonne Toulouse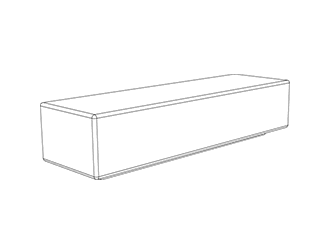 200 x 60 x 45 cm / 1230 kg
Garonne Aran
200 x 60 x 45 (65) cm / 1410 kg
Materials
Etched and waterproofed Concrete